Certificate of Posting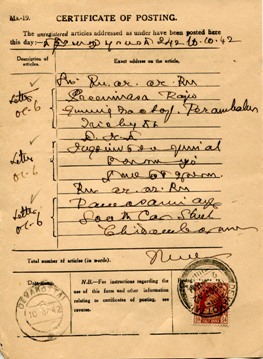 Preamble
The aim of this brief account of Postal Receipts, Acknowledgements and Lables is to enable collectors to understand and identify such of them as pass through the Post and become the property of receivers or are given to the customers as a part of postal transactions. I have selected only the commonly seen from and wherever possible given the departmental numbers assigned to them, which are sometimes printed on them.
Introduction
Through the facility of receiving an acknowledgement from the Post Office that a particular article had actually been posted by a messanger was made available as far back as 1877, the Certificate was required to be prepared by the sender in manuscript for stamping by the Post Office. The printed from MS-19 was issued in 1912.
Actual System
There were three mode of sending letters through post offices:

1) by ordinary dak - a sender will simply drop the letter in letter box and may or may not reach its destination.

2) Registered Letter/Post: Sender will affix more postal stamps on envelope and delivers at the designated counter of post office and obtains the receipts thereof.

3) UPC: The first mode of 'ordinary dak' was not sure and sender will say I have posted the letter whereas the addresses disputes I have never received. Second option of Registered Letter is costlier in certain cases. Keeping in view a third option was there known as UPC. The sender will deliver "ordinary dak" at specified counter of Post office at extra nominal cost - say Rs. one for three envelopes - and holds on the proof (named as UPC) having posted letters. UPC Letters may or may not reach their respective destinations.
A mail sent under certificate of posting is just an acknowledgement by the post office that it received the mail and has no further value, unlike a registered mail which is bound to be delivered to the addressee and in case of regd. a/d where u get the acknowledgement of the addressee.
UPC can only be used to prove to the addressee that you indeed posted the letter. This is usually used to send general body meeting notices by societies, companies etc.
Discontinuation of 'Certificate of Posting'.
MINISTRY OF COMMUNICATIONS AND
INFORMATION TECHNOLOGY
(DEPARTMENT OF POSTS)
D.G. Posts No.2-4/2008-PO dated 23.02.2011.
Under the provisions of Rule 195 of the Indian Post Office Rules , 1933 'Certificate of Posting' is granted to the public to afford an assurance that letters and other articles for which no receipts are granted by the Post Office and entrusted to servants or messengers for posting have actually been posted.
It has since been decided that' Certificate of Posting' may be discontinued immediately.
A copy of Gazette Notification No. 58(E) dated 31.1.2011 deleting Rule 195 of the Indian Post Office Rules, 1933 regarding 'Certificate of Posting' is enclosed for information and necessary action.
This may kindly be brought to the notice of all concerned for strict compliance.
The receipt of this communication may also be acknowledged.
Sd/-
(NIRAJ KUMAR)
Director (PO&I)