Value Payable Post (VP Label)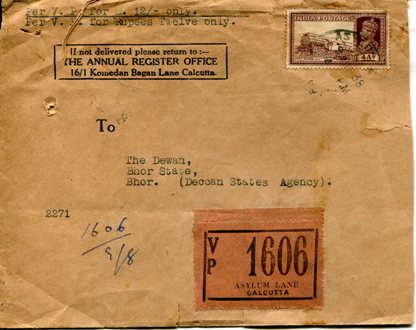 Preamble
The aim of this brief account of Postal Receipts, Acknowledgements and Lables is to enable collectors to understand and identify such of them as pass through the Post and become the property of receivers or are given to the customers as a part of postal transactions. I have selected only the commonly seen from and wherever possible given the departmental numbers assigned to them, which are sometimes printed on them.
Introduction
Receipt for the Sender of a V.P. Parcel
Introduced in December 1877. Superseded by the Receipt for a V.P. Article in November 1882.

Receipt for the Sender of a V.P. Article
Introduced in late 1882 to include V.P. Registered Letters, V.P. Registered Book Packets and V.P.Parcels. From 1883-84 it formed part of Combined V.P. Receipt and V.P. Memo. Issued from V.P. Journal in 1888. By 1909, issued from a revised Registered V.P. Journal.
From Numbers :
Year
Form No.
Remarks
1877

II1

a
1881
41
1882
41
revised
1882
41
further revised
1883
R&P-33
1885
R&P-3/P-11
1888
P-2
1909
R&P-1(a)
1910
R-1(b)

(Special V.P. Journal for registered V.P. articles of the Letter Mail), P-1 (a) (Special V.P.Journal for Registered V.P.Parcels).


V.P.Label
The Label was introduced in December 1877 as a part of Value-Payable Parcel Service. Its aim was quick identification and proper treatment of V.P. Parcels. It was printed in red on white paper and full details of the parcel were written on it, and it was affixed to the Parcel with paste . The format of the Label was changed in 1881 and it was printed as a standard postal from with space for the following entries :-
(a) Number and weight
(b) Postage due and Value due
(c) Amount to be recovered from the addressee
(d) Name of the sender
(e) Date Stamp of the Office of Posting.
Due to a change in rules, the Label became redundant in October 1882 and was formally abolished in April 1883. The Postal Manual (Vol-I) of October 1884 brought it back as a standard printed from - P-12- printed in black ink on red paper. It was pasted on the address side of a Parcel or a Registered Book Packet. For Registered Letters, the label was pasted on the address side of the V.P. Envelope in which V.P. Registered Letters were enclosed by the post office. This Label was much smaller than the previous one and had space only for inserting the number and the amount to be recovered from the addressee. From November 1885, the red Label was ordered to be used exclusively on V.P. Registered Letters and Parcels and a similar label printed in black ink on light green paper was introduced for use on V.P. Unregistered Book Packets. In December 1886, the red and green labels were revised to omit space for entering the number as the number was given in the newly introduced Parcel Number Slip. In July 1888, both the V.P. Labels were abolished.
From Numbers
| | | |
| --- | --- | --- |
| Year | Form No. | Remarks |
| 1877 | (?) | |
| 1881 | 121 | |
| 1883 | | abolished |
| 1884 | P-12 | |
| 1885 | P-12, P-12 | red,light green |
| 1886 | P-12/P-12 | revised |
| 1888 | | abolished. |
Actual System
Value Payable Post was a very convenient method in India during the early 20th century for ordering limited quantities of goods from unknown merchants without making the required payment in advance.

Billing information was received by the customer in green coloured envelopes if the VPP was a parcel item in contrast to red envelopes for letters and other regular mail.